Basic search
Upon launching, the Kerux Main Screen will appear in the upper left-hand corner of your screen. Pass your mouse over "Search Resources" and you will see two options, Basic Search and Advanced Search. Here is an explanation of Basic Search.
Basic Search - makes a broad search of records in the database.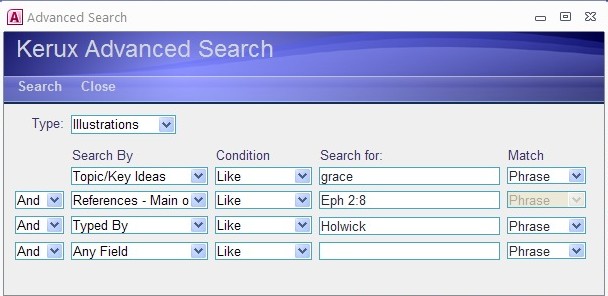 Type lets you search both Sermons and Illustrations, or you can limit it to one type.
Search for: lets you type in search word(s). If it is a Bible reference, click that box.
Match lets you choose whether the search words are a phrase or an assortment.
Exclude lets you limit the records that will be produced by the search. Your search becomes something like "black AND NOT white".
Click the first funnel icon and the search will begin.
Click the second funnel icon (with the "x") and the results are cleared.
The fields under Title and Topics/Search look like you can enter search words into them, but you cannot. This is just where the results will show up. Only enter your search words into the fields that are surrounded by dark blue.
Here are the results for a search for "salvation by grace". Only an overview of the first few records is presented - click Open Results to cycle through each of the 234 records.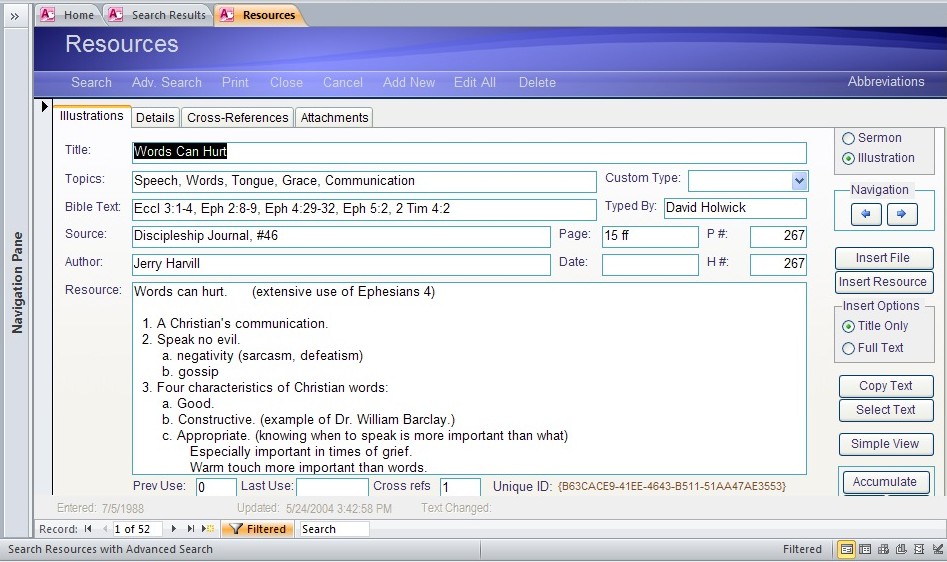 Copyright © 2011 by Rev. David Holwick
Created with the Freeware Edition of HelpNDoc: Full featured Help generator