Adding new material
One of the big advantages of this database system is you can add your own illustrations and sermons. There are many advantages to having an organized system, such as not repeating yourself, keeping a balance in the themes of your sermons, and seeing which areas you may be neglecting.
It is easy to add your own material. On the Main Menu under Resources you can add a sermon or an illustration: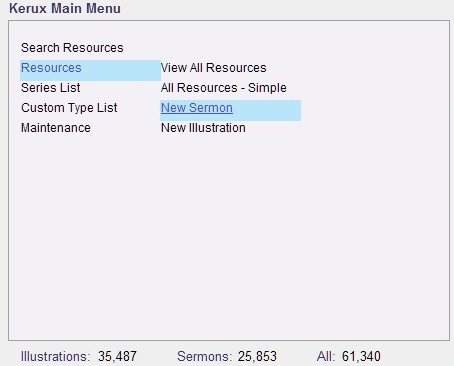 On the Resources form itself, there is a menu bar entry for Add New. The next page will ask you to choose Sermon or Illustration, which appear in the Resource Type box on the right-hand side.
If you are going through a set of records and you come to the end, the same dialog will appear.
When you add your own material, make sure you put your name in the Typed By field. You have your name entered automatically by going to Main Menu > Maintenance > Kerux Options. You can set the default typist, default attachments folder, as well as default Advanced Search criteria and ID number options.
________
A fast way to add lots of new material is to import a supplement. Most supplements contain sermons and illustrations that are already in the Kerux format.
Copyright © 2011 by Rev. David Holwick
Created with the Freeware Edition of HelpNDoc: Easily create PDF Help documents